The best dominatrix ads websites in 2023
Finding a dominant woman is not easy for newbies. There are many dominatrix ads websites that allow you to find someone to contact quickly, but many fraudsters use these websites to scam you. This article aims to help you find a real online dominatrix and give you some advice on the pitfalls to avoid.
The best dominatrix ads websites in Europe
There are many sites to allow you to meet a dominatrix. Most of these sites are well-known and accessible for free, but there are some traps to avoid. As a dominatrix based in Paris, I have a better knowledge of the Parisian market but this list is valid everywhere in France for anyone looking for a domination session.
LadyXena, and its numerous ads for dominatrixes
LadyXena is a site used by sex workers to list themselves in order to find their clients. It is one of the most reliable sites on the market in terms of quality. The providers present on the site are relatively serious and the false profiles are lower than average. The site is divided into several sections:
VIP Escort
Pornstar Escort
Dominatrix (BDSM)
New
Trans
The dominatrix ads section of the site dispalys more than a hundred of dommes in France, mainly in Paris. It is one of the best sites in this field.
Wannonce, a dubious site but with some real dominatrixes
Wannonce is an ad site for any type of exchange, from yard sales to BDSM encounters. You can find the ad for a dominatrix that will make you want to see her in real life or simply a small crook who will then want to blackmail you. Be careful and do not send photos of yourself or money directly on Wannonce. Look for the nickname of the dominatrix you are chatting with to see if she has a Twitter account, Fetlife, or a website. This way you will know if the ad of this dominatrix is serious or not.
This site is the first on the search results for the query "dominatrix ads". By clicking on it, you will quickly realize that these are fake profiles. All the dominatrixes presented on this site are pornstars whose faces have been blurred. The images clearly seem to be taken from adult videos. This site should be avoided and reported to Google. I doubt that there are any women registered on this site so forget about dominatrix dating.
G-trouvé, a real mistress for every three questionable profiles
G-trouvé is another site that also appears on Google. Like Wannonce, it is possible to find a serious dominatrix ad but for every serious mistress who is looking for a submissive, you will see three or four dubious profiles. You may even find yourself talking to a man thinking he's talking to a woman. Seeing the ads in Paris, I recognize a few colleagues but I think it is more interesting for you to search on Ladyxena because these dommes I am talking about are also on there.
Sexemodel, a site that allows you to read reviews
Sexemodel is a site that allows you to post ads. The advantage of this site is that it is possible to read the reviews of the people you want to meet. However, be careful not to be fooled by false reviews. Even if the site seems to be correct, it is shunned by most of my more experienced colleagues and I also decided not to use it.
Deconstruct a dominatrix ad before making contact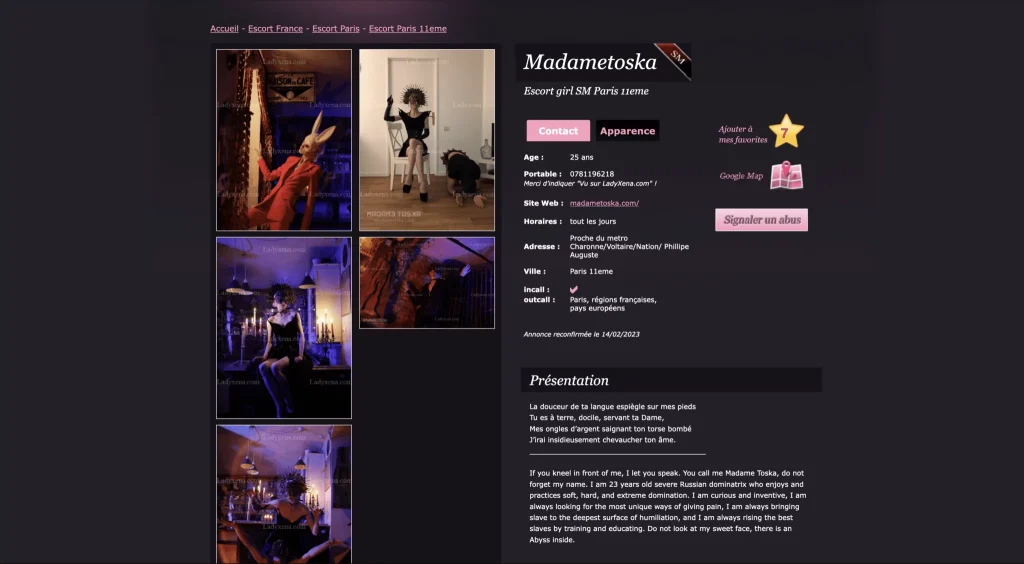 Before you meet a dominatrix, read her ad and her research carefully. You will know what this person is looking for and how to contact her.
The ad title
The title of a dominatrix ad is one of the first things you will see. You will see right away what the ad is about. Is it a hard or soft domination session for example? Is the mistress looking for a submissive or a slave? A simple session or ownership. Don't waste your time clicking on an ad if its title doesn't make you feel confident.
Images: beware of fake images
Images are the best way to tell if a dominatrix ad is from a dominatrix or a scam. Take the time to analyze it carefully and see if everything looks right. Pay attention to every detail. The background, the architectural style, the furniture, the electronics. For example, I've seen ads for "French" dommes with American power outlets (different from the ones in France) in the pictures. This is obviously suspicious.
There are obviously spoofed photos. Whether it's a selfie or another woman's feet, it's easy to be fooled. To identify stolen images more easily, you can use Google's reverse image search tool.
The ad content
The content of the dominatrix ad is essential. It is the detail of the search for this dominatrix. You will need to read it carefully. There is nothing worse for a dominatrix like me than to read a response to my ads that is totally off-topic and makes it easy to understand that the person did not bother to read my requirements. So please, read the complete ad and see if you fit the profile. If she is a lesbian dominatrix who is only looking for female clients, do not contact her if you are a man. If she writes that she does not move outside Paris, but that you live in Clichy, 1 km from Paris, do not contact her. Dominatrixes do not make exceptions. If she only wants to practice hard domination and you can't stand the pain, don't contact her either.
Reviews if they exist
Some sites allow you to leave reviews and read feedback from other submissives. They should be read with a critical eye. Reviews can help you identify fake accounts and scams, or tell you if it's a woman and not two guys out to get you. Just watch out for fake reviews. Try to find semantic and spelling similarities from one review to another. For example, if the same profile has two reviews with the same spelling mistake, there is reason to doubt.
Her website
Any dominatrix ad platform allows linking to a website. These sites take a long time to design and are a good indicator of the seriousness of the person who has published the ad for a BDSM session. Most of my colleagues in Paris have a website. Just type "dominatrix paris" on your search engine and you'll see for yourself. A scammer will not develop a site because it takes so much time that the action will not pay off.
A website is therefore a guarantee of seriousness. Moreover, I recommend you to contact the dominatrixes who have sites from the contact page of this one. This allows you to see from which site you come thanks to traffic measurement tools like Matomo Analytics. However, be careful to respect the requirements of my colleagues which are not the same as mine.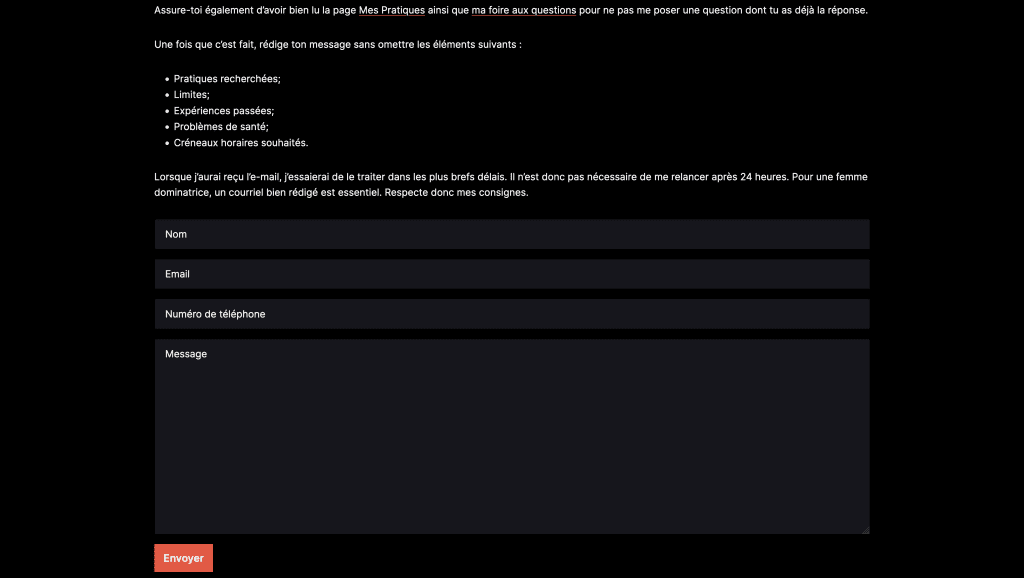 The means of contact
Follow the instructions given to you in the ad. If a dominatrix asks you to text her, don't call her or send her a private message on Instagram, Twitter, or any other social network she is on. It's just a matter of manners.
Responding to dominatrix ads
When you like a dominatrix, you must contact her according to the rules in her ad. Read her rules, and provide her with all the information necessary for a successful session. These include:
your name;
your email;
your phone number;
session location (check if she hosts or comes to you);
your availability;
session duration;
your kinks;
your limits;
health issues if you have them;
Alternative methods to ad sites
Dominatrix ads are not the only way to contact them. Some of us are not even on this kind of platforms.
Social media
Many dominatrixes are on Twitter or Instagram. Do not hesitate to use the search bar by filtering the content closest to you. Be careful of course to go to a reliable person whose profile you have read. I recommend that you follow this person online for at least a few days to get a feel for the kind of person she is and her practices.
Be careful to contact her on her own terms. Do some want a small offering before the first contact? If she is serious (and it is easy to see), this request is totally justified. You have no idea how many non-serious clients waste the time of dominatrixes. I sincerely believe that for every 50 contacts with me, only one or two submissives are lucky enough to get a session because they followed my instructions and showed up for the appointment. I estimate that between 40% and 70% of a real dominatrix's working time consists of sorting out the phony profiles from the rest. So don't be offended or shocked if a domme asks you for a pre-payment before any contact.
Fetlife, a BDSM and fetish social network
Fetlife is a BDSM social network on which several dominatrixes publish content. I already talked about it in my article Have a BDSM date in 2022. Often, the content on Fetlife is a little more rough and hard than what you see on Twitter or Instagram because Fetlife is dedicated to BDSM. You can find many dominatrixes posting on local groups. If you respect the rules they impose and make sure they are real, everything will be fine.
Google search and dommes' sites
If you search well on Google, you will find many dominatrixes whose site is on Google. If you are looking for a dominatrix in Paris, just type "dominatrice Paris". If you want to be stripped as part of a cashmeet, type "findom Paris". It's quite simple and it's often more reliable than third-party sites where there are many fake profiles. In addition, the content is richer and you will find more details about the practices of this person in session. This approach should be preferred by submissives who are not used to contact with dommes.
Conclusion
Browsing through dominatrix ads sites is not easy. Between the dubious profiles and your inability to follow the instructions, many pitfalls stand between you and the session of your dreams. Just follow the instructions in each ad and be serious. If you wish to have a session with me, I invite you to check my session page and then go to my contact page.