My vision of impact play sessions in Paris
I am very enthusiastic about doing impact play with my submissives. This kink brings out my sadistic side which is surprising when you see the pretty little blonde that I am. These sessions are particularly intense for those who undergo them and for those who hold the whip, the riding crop, the martinet, or the cane. I receive you to do impact play in Paris.
My kinks related to impact play:
flogging with a whip
face slapping
spankings
whipping with a riding crop
English cane strokes
You will let me know in advance which games you like. Be careful not to overestimate yourself. The degree of pain varies and some accessories leave marks that stay on the body for a long time so make sure you are well-informed. The image below will be very helpful. If you don't feel you can handle the flogging, slapping, spanking, or whipping, you can turn to my other BDSM kinks.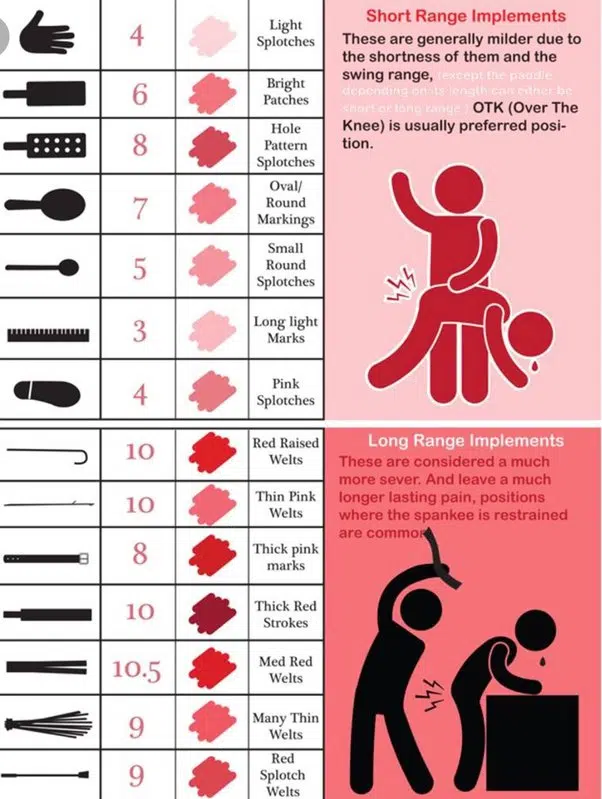 Go to bed smarter - Impact play
In the Middle Ages, flogging was used as a punishment for crimes and sins, and it was also associated with the religious activity of the mortification of the flesh. However, flogging was also used as a sexual game, often associated with secret cults or occult groups.
Over time, flogging and whipping games became more sophisticated and were incorporated into modern BDSM culture. In the 1930s, the whip became a symbol of power and domination in popular culture, with characters like Zorro or the masked vigilante from the comic strip "The Phantom" using whips to fight crime.
In the 1960s and 1970s, BDSM culture began to emerge in underground circles in major cities, with clubs and private parties hosting bondage, domination, and submission shows. Impact play was included in these games and became increasingly popular.
Today, impact play is often associated with BDSM kinks and is seen as a way for participants to experience intense physical sensations while exploring power and submission dynamics in sexual relationships.
Various activities can be classified as impact play. The submissive is spanked on the buttocks with the superior's open hand or a rigid instrument such as a paddle, cane, or riding crop in the case of sensual spanking. The paddle, cane, and whip are all terms used to describe the latter activity.
Sexual flogging involves hitting the submissive with a soft object such as a whip or belt.
Whips are classified according to the number of tails they have: A single tail, such as the bullwhip, is used. The term "single tailing" refers to the associated activity.
Other whips have more than one tail, like the cat o'nine tails.
Learn more about the kink of impact play, see this article by Clarisse Thorn on the history of BDSM.